Sikka Karnam Greens is a home where you can find the perfect balance between quality time with family, self modulation, family's health and the best happiness. It is thoughtfully situated in the centre of Noida sector 143(B). Sikka Karnam Greens is a developed residential & commercial place in Noida sector 143, all the flats are creatively built with 3 side openings, it is planned near Faridabad Noida and Ghaziabad(FNG) Expressway and Wi-Fi Taj Expressway. Sikka Karnam Greens Noida has an architecture designed and developed by renowned "Arch 10 Design Consultants" with its beautiful Landscape developed by internationally famous LOLLY M (Austin, Texas – U.S.A). The architecture and Landscape would be one of the best kind in the vicinity.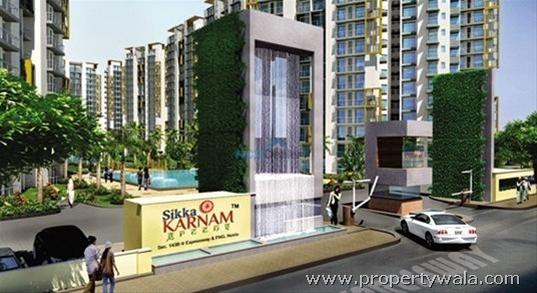 Karnam greens are luxury apartments situated in the heart of Noida which tends to make an attempt to redefine exuberance. It is a project that fulfills all the aspirations and matches up to all the expectations with regard to the standard of construction, location, ethics, design, product quality and the best of the amenities and facilities.
Sikka Karnam Greens offers flats of different variants starting from 1bhk and going up till 4bhk. They also provide studio apartments which are thoughtfully crafted for efficient space in affordable rates providing all types of living and location amenities. These homes are available at prices beyond your expectations with really affordable plans. The best way is to pay the booking amount first and carry rest of the payments after you start living. Just make the best decision for your family.